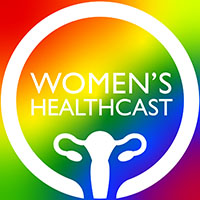 To celebrate LGBT Pride, we're re-airing one of our most popular episodes: Safe Spaces: Making OB-Gyn Care LGBT-Friendly.
For many LGBT people, past discrimination or concerns about discrimination from medical professionals can deter them from seeking health care. Pride Month (and every month) is a great time to look at how we make health care settings safe and inclusive spaces.
On this episode of the Women's Healthcast, Dr. Ruth Yemane discusses reproductive and sexual healthcare for LGBT patients. She also shares her suggestions for how health systems can work harder to make sure  lesbian, gay, bisexual and transgender people feel safe and comfortable throughout their healthcare experiences. Dr. Yemane is an academic specialist in general ob-gyn at UW-Madison.